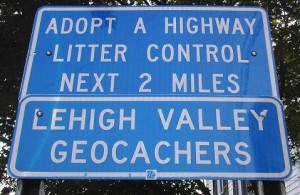 Today geocachers from across the Lehigh Valley took part in a "Cache In, Trash Out" (CITO) event. The idea behind CITO is simple, Geocachers love the outdoors, so if we're out looking for caches and we spot a piece of trash we pick it up and throw it away. Sometimes an area has such a massive litter problem a CITO event is organized so geocachers can clean up as a group.
This past spring the geocachers who go by the name Greyvin took the initiative to adopt the stretch of Route 191 from Route 22 north and planned what would become a recurring CITO. On May 1 a group of over two dozen geocachers met at Lower Nazareth Township Park and over the next few hours proceeded to collect more trash than anyone expected to find along Route 191. It's amazing what people wil toss along the side of the road.
PennDOT's website  says that they want a group to collect trash four times per year along a designated section of adopted highway so today we met for our second CITO along Route 191. Luckily today there was a lot less to pick up, but even after only a few months there were still about three dozen bags of garbage collected just in that two mile segment.
It's hard to believe that in 2011 how many people still litter, and the number of cigarette butts we saw on the side of the road was beyond disgusting. I realize that it's possible if you're driving with the windows open something could accidentally fly out, but the kind of apathy required for someone to intentionally throw trash out of a moving vehicle is something I won't ever understand.
It's sad that something like the Adopt A Highway program even needs to exist, but I'm glad that there are groups out there doing what they can to keep our roads clean. Have you ever participated in an Adopt A Highway cleanup? Leave a note in the comments where your adopted highway is located share what your experience was like.