A few weeks ago I realized that I hadn't watched "real TV" in weeks. All of the video I'd been watching was coming from the Internet or DVDs. If I wasn't watching television, then why was I paying for it? I looked at my cable bill and when I included all of the fees associated with my subscription I was paying $87.81 for something I wasn't actually using. If I was going to "cut the cord" as it's become known, I wanted to see if I would incur any fees for just having Internet service. Sure enough, according to Service Electric's website there was a $10/month fee if you didn't have television service. That combined with their recently-implemented bandwidth cap made me decide to see if there was a better option.
I knew that Verizon FiOS wasn't available in my area, but neighbors of mine had recently switched to RCN and were happy with the service, so I checked out RCN's website to see what Internet options were available. RCN's slowest Internet package was faster than Service Electric's fastest, and they didn't have an extra fee if you didn't have television service or a bandwidth cap. If I didn't have television service Service Electric was offering 25 Mbit download/1 Mbit upload for $54.95/month. RCN was offering 25 Mbit download/4 Mbit upload for $39.99/month, 50 Mbit download/10 Mbit upload for $49.99/month and 75 Mbit download/15 Mbit upload for $59.99/month. So, for $5 more per month I could triple my download speed and have fifteen times the upload speed? Why wouldn't I choose that option? Even when the rates go up in years two and three ($69.99 and $79.99/month, respectively) it's still faster than anything Service Electric offers, even to commercial customers and it'll be much less than I was spending on combined TV and Internet service.
I was still apprehensive about switching, so I decided to send a tweet to ask what people thought about the two competitors. No one had anything good to say about Service Electric, and while there were a few people who didn't like RCN, most people had good things to say. A friend of mine summed up the situation:
Service Electric suffers from being better than Twin County was 20 years ago. RCN is leaps and bounds ahead of them in terms of Internet speed and even channel lineups. But because Twin County was terrible in the 90s there are diehard sectv subscribers who settle for inferior service.
In addition to regular people sending their comments about RCN and Service Electric I got a response via Twitter from RCN within ten minutes. We had a conversation via direct message where their rep Jackie answered my litany of questions. She confirmed that I could get 75 Mbit service at my address, that there wasn't a bandwidth cap, that there wasn't an extra charge for Internet if I didn't have television service, but despite what some of my friends are seeing on their bill, RCN is longer offering a credit if you provide your own cable modem.
Thanks to Jackie answering my questions, my mind was made up to switch, so I attempted to sign up on RCN's website where I saw that there was a promotion to save 50% off the installation charge if I signed up online. Unfortunately as I was checking out I didn't see that savings reflected in my cart. I chose the option to save my cart and entered my email address as I was asked. I then sent another direct message to RCN via Twitter asking about the installation discount that the website mentioned. Within a few minutes Jackie responded with a code I could use to get the discount, but luckily I checked my email before I finished signing up.
After I saved my cart on RCN's website I was sent an email with a link to resume my signup. There was also a discount code for FREE installation if I completed my order within 48 hours. I used the provided code and scheduled an installation. They could have been out the following day, but I was busy so I chose to have my service connected on the next day, which was Sunday morning. RCN's contracted technician, Mike, did a very neat job with the installation.
Once he was done with the installation I called Service Electric to cancel my service and I was a bit shocked by how their phone rep didn't sound even remotely disappointed that I was leaving. That said, she was very helpful. She stopped my billing that day so I wouldn't be billed for another month of service. I confirmed that the only thing left for me to do was to turn in my cable box and cable modem. She said that once I turned those in my account would be closed. I also asked her if I could have someone come out to my house to remove their wire from my house. She said someone would be out on May 5 to remove the line.
I turned in my cable box and modem at Service Electric's office the following day and got a receipt confirming everything was turned in. In the mean time Service Electric's line and junction box were just hanging on the side of my house doing nothing. This morning, May 5, I saw a service truck appear in front of my house. I heard the service tech make a bit of a noise with the ladder on his truck, but when I looked out my window a few minutes later he was gone. I went outside to confirm that the line was gone and I saw that he didn't do anything. At all.
I took to twitter to express my confusion, and a friend chimed in. Later Service Electric responded to him, not me, asking that he contact them to confirm what happened.  Aside from that weirdness I was glad to see them respond so I called to find out what happened. Apparently when I asked to have the wire removed from my house a work order was put in to have Service Electric disconnect the wire from the pole to the line going into my house. Since that was already done when RCN connected my service, the Service Electric technician left. The woman I spoke with on the phone at Service Electric apologized for the confusion and said that someone would be out on Saturday to remove the drop from my house. I guess I should have known that jargon when I asked them to remove their wire from my house the first time? Hopefully this coming Saturday Service Electric's wire will be gone and they won't leave it coiled up and ugly on the lines between the houses on my street like Verizon did. (Yes, that's still there.)
tl;dr
Cable TV is expensive
Shop around for your Internet service
If you want the wire from your old cable company physically removed from the side of your house ask them to "remove the drop"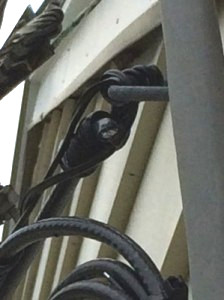 Service Electric came out and removed the line that was hanging down the side of my house as well as their junction box, but from what I can tell they left the wire running from the pole out to the house. From what I can see (I posted a photo on the right), they just cut off the wire at my house. Why did they do that?
I tried calling Service Electric, but operator assistance wasn't available at 2:45 PM. I contacted Service Electric through their website with the following message at 2:53 PM:
Today I had an appointment to have one of your technicians remove the cable line from my house. The customer service person I spoke with on the phone earlier this week used the term "remove the drop" which I understood to mean that your line would be completely removed from my house. While the junction box and wire that came down the side of my house were removed, instead of removing your line from my house, the technician just cut it near the roof. Here is a photo of what was done. http://todddietrich.com/wp-content/uploads/2014/05/Photo-May-10-2-35-39-PM-1.jpg

Unfortunately I wasn't home when the technician came out or I would have asked them to remove it completely when they were here. How can I get someone to finish removal of your line from my house instead of just cutting it? I tried calling your customer service phone number at 2:45 PM, but it said that no operator assistance was available.

Thank you for your help,

Todd Dietrich
I received a prompt reply from Will at Service Electric at 3:05 PM via email:
Sorry to hear that the line wasn't removed the way you wanted. It's unclear from the photo what is left as I am not an installer, but I'd like to schedule an installer out when you can be there to get this done properly. Do you have any days that work better?

thanks,
Will
To which I replied at 3:21 PM:
Will,

Thanks for the quick reply. I can be home to meet the installer any day this coming week. When I made the initial appointment the person I spoke with said that since it was all outside my house I didn't need to be home, so we didn't set a time, just that someone would be out today. It's not urgent, so an emergency visit isn't necessary, but I would prefer that this not get forgotten. If it's easier to discuss via a phone call I would be happy to call you, or you can call me, but when I tried earlier the automated message said that no one was available.

I've also adjusted the contrast in the photo that I referenced in my original message to make it a little clearer, in case anyone else needs to see what was going on.

I appreciate your assistance,

Todd Dietrich
Just to clarify, the reason I am documenting all of this is so people can see what it takes to remove a cable line, similar to what I did with removing my phone line last year. I also don't want to make it look like Service Electric isn't being responsive. They are, so it wouldn't be fair for me to complain but not document what they're doing to make things right.
For better or worse, one of the number one things that brings people to my blog are queries on "how to remove phone line from my house" or some derivative. Also, I can't say that I've had a bad experience with Service Electric. They're not a bad company, they just didn't offer the speed that I wanted. That's why I switched to RCN, not because of reliability or quality issues.
Will was quick to respond again at 3:43 PM:
I can get someone out next Friday or Saturday afternoon.

thanks,
Will
I responded at 3:46 PM:
Thanks for being so helpful Will.

Either day is fine. Can you give me a window of when the technician will be out so I can be sure to be home?

Thank you,

Todd Dietrich
He got back to me at 4:06 PM:
12: 30 – 5 pm on Thursday with a half hour call ahead.

thanks,
Will
My final reply at 4:07 PM was:
Perfect. Thank you so much for setting this up.

– Todd
While it's frustrating that the technician who came out today only halfway removed the line from my house, kudos to Will at Service Electric for being quick to respond to my email and for scheduling someone to come out to finish the job.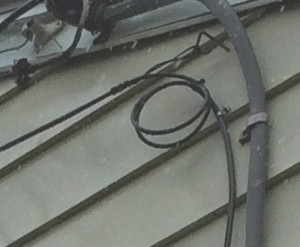 Service Electric's technician came out this afternoon and he said that the reason the previous person didn't completely remove the wire was because RCN used Service Electric's hook that is connected to my house, but Service Electric isn't allowed to touch RCN's equipment. He asked what I wanted to do. I asked if I would be charged for the hook if he removed the cable and he said no. I said that it was up to him on how he wanted to remove the wire and that I'd be OK with him just cutting it at the hook, leaving a nub and removing the rest of the line back to the pole, I just didn't want it connected to the building. He was very nice about the whole thing and within about ten minutes, even with the rain that we're getting today, the job was done. Fortunately he didn't just cut the wire and leave a stub, he removed the entire thing from the hook and unlike Verizon when they disconnected their line from my house he didn't leave a coil of wire back at the pole, he removed the entire thing properly.