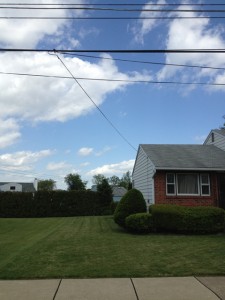 When I bought my house in 2011 I knew that I wouldn't be signing up for land line phone service. I never called the local phone company (Verizon) to cancel the prior owner's service (I am assuming their realtor did) and I never saw a bill, so I assume that everything was shut off before I bought the house. That said, even though I'm not a customer, there's still a cable coming off the line in front of my house and a big gray "Network Interface Device" box mounted to the side of my house. Now, it's not horrible, and it's not really doing anything, but my cable and electricity come in to one side of the house, and this box is on the other side. It just looks out of place.
I asked a few homeowners that I know that also don't have land line service what they did about their service and most said that they either never had it activated (the route I took) or they called the phone company and had the service cancelled. When I asked what they did about the physical wire and box, everyone that I spoke with said that they just left it there. I asked people how I could go about getting it removed and some said that it was illegal, that the phone company just wouldn't do it, or "if you go to sell the house in the future it will reduce the value."
I left it go for about a year and this past weekend while doing some yard work I once again noticed the inactive box on the side of my house and finally decided to act and contact Verizon and get a definitive answer. The worst thing they could tell me was that they weren't going to do it, but until I asked them directly, I'd never know for sure.
Since it was Sunday I sent a support request through their website, figuring that they wouldn't be taking non-urgent phone calls on a weekend. I got a reply regarding my request to remove the line saying "I apologize for any frustration or inconvenience this has caused." (how polite) and they told me to call 1-800-VERIZON to schedule someone to come out. This was great news.
I called and since I wasn't quite sure what department I needed I chose the "everything else" options on their automated menu and spoke with a very polite woman (her name escapes me) and I explained that I wanted the box removed from my house. She asked why, and after I explained that I didn't want phone service and I can't see me ever wanting it, she told me that they don't normally remove those boxes in case I would ever sell the house in the future and the new owner would want phone service. I thanked her, but said that I didn't like the box being there and really wanted it gone. She told me that she couldn't transfer me to the repair department, but asked that I call back in and select that option so someone could set up an appointment.
I called back in, selecting the repair option and was ready for someone to try to talk me out of removing the box. The guy I spoke to didn't even flinch when I said that I don't want residential phone service and would like the box removed. He took down my address and a contact phone number and said someone will be out tomorrow to remove the line.
Once I stopped dancing around the issue and just called the phone company, I was on the phone for less than 10 minutes. I'll post an update once the technician comes out to let everyone know if there were any complications.
[Update: 5/14/2013 12:55 pm]
A few people asked me how much Verizon was going to charge me to remove the equipment and I told them that the representative didn't even mention it. A few said that I would likely just get a bill in the mail. To be sure I called back and spoke with a guy named Matt who said that any of the lines outside of the house are owned by Verizon and they are 100% responsible for them so there would be no charge. (That's a relief.) They only charge if they have to do something to the wiring inside the house.
[Update: 5/16/2013 9:34 am]
No one came out on 5/15 to remove the line from my house so this morning I called Verizon to find out why. I spoke with Pam who was very polite and she said that my support request had been closed, even though nothing was done. She entered in a new support request of me and when I asked her when I could expect someone to come out she said that she has it in to be done today since someone closed the old ticket without doing the work.
[Update 5/17/2013 1:10 pm]
Since no one came out yesterday like they said they would, I called Verizon to check on the status of the repair ticket. I spoke with Ed and he told me that the ticket was still open and even though it was scheduled for yesterday, it was still pending for someone to come by and remove the line.
[Update 5/29/2013 4:35 pm]
There still hasn't been any action on removing the line, so I called customer service at Verizon and once again, everyone was very nice, polite and profesional. I spoke to Michelle and she told me that my trouble ticket was referred to a local foreman to take a look at my house and that was all she could see. She said that I could talk with a supervisor to see if they could get more information about the status, and I said that would be a good idea. When she attempted to transfer me I was disconnected.
I called back and explained my situation again, this time to Jennifer who said that, yes, it was referred to a local foreman, and that a supervisor may be able to give me more information, but that in their system all they could see was that the ticket was referred to a local person. She then transferred me to the supervisor line and I spoke with Lou. Lou told me that he could see that the ticket was transferred to a local foreman and in situations like this, a foreman will be tasked with driving by and taking a look to evaluate what needs to be done before a work crew can be dispatched. He said that he would see what he could find about the status of my request and would call me back within 10 – 15 minutes.
[Update 5/29/2013 4:50 pm]
Lou called back and said that when it was referred to the local wire center it was closed improperly. He asked for a bit of clarification on what I want done (The box and wire removed) and he clarified my address. He said he's going to call me back with a new ticket number. This has been a lot of back and forth on the phone, but everyone has been extremely helpful and nice about giving me all of the information that I'm requesting.
[Update 5/29/2013 4:55 pm]
Lou called back with a new ticket number and apologized profusely for the mixup that has been going on. He said that I should get a phone call within a few days from someone regarding having a foreman come out to look at what I want done. He said that if I don't hear from someone by Friday to call back and ask for a supervisor so they can call over to dispatch to find out what is going on. I thanked him for being so helpful and he again apologized for the inconvenience and thanked me for my patience.
[Update 6/7/2013 11:20 am]
I called in and spoke with Janice, who was very helpful and told me that once again, my ticket had been closed with no action taken. She told me that she would create a new ticket with a red flag on it to get a supervisor's attention. She told me that the appointment to have the line removed is for Tuesday, June 11. I told her that if I don't hear or see anything by the middle of next week, I'll call back in to get a status update.
[Update 6/11/2013]
When I got home from work today I noticed that The phone line had finally been removed.
[Update 11/14/2014] (The year is not a typo)
Verizon sent someone out today to remove the rest of the wire that had been coiled up on the line between utility poles for almost a year and a half.